You might have read that I am starting to get back to running on my own (versus under supervision of my PT).  I'm excited but also curious to see if I love running as much as I did in the past.  I've been so in love with going to classes that I may find that running isn't the first choice on my list.  At the same time, I have a personal goal of running another half marathon before I turn 30 and eventually at least one more marathon just to prove to myself that I can overcome this hip pain.  I remember how much I used to really enjoy running and I want to have that feeling again.
Although I'm allowed to go out running, there are a few rules I need to abide by…
Run in minimalist shoes. (I am pretty in love with the color of my new kicks)
Only run up to 30 minutes.
Can't run 2 days in a row.
Once calf pain lasts for less then 24 hours I can add 2-3 minutes onto the time I run.
Once I get up to 40 minutes, I have a check in with my PT.
I had my first run outside Sunday and made Dave go with me.  I left pretty enthusiastic but came back a little defeated.  My calves got tired really fast and I had to go a lot slower that I had even when I was at PT.  I told Dave to go off and run on his own because it was actually stressing me out thinking of him trying to stay back with me.  I really just wanted to tell him…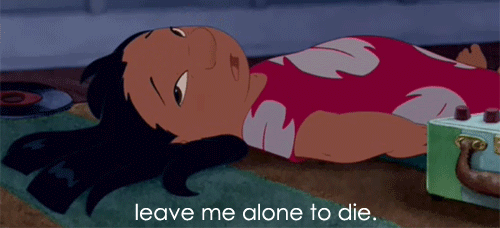 [source]
But I didn't.  I just huffed at him to go ahead and I'll see him at home.  I really just wanted to be alone because I was feeling disappointed in my first run back.  I also wanted to focus on if my calves hurt in a good way or a bad way (should I walk?), my running form, and really just making it through the run.  Once I finished the run, I was absolutely DREADING going for the next one.  I was wondering if it would be the same as the first or worse.
Over the next day and a half, I used The Stick to massage my calves and also did a few stretches.  I could just hear my friend reminding me, "Make sure you stretch your calves!"  The Stick and my stretching must have done some good because my second run went much better!  My calves really didn't get sore until halfway through the run and even then, it was not nearly as bad as the first time.  The first run was probably not the best because it was the first time I had run on pavement since before PT and I was in minimalist shoes.
Running and fitness in general has always provided me with great life lessons.  This experience was a wonderful reminder not to give up even though something you love (or used to love!) is so difficult.  Have a little patience and put thoughtful effort into it and you will see the reward.  And even if you do have a good day after a bad day, that doesn't mean that the bad are done.  There always will be small challenges to overcome, but that is what makes the end achievement feel so much better–knowing you persevered!
Questions for you:
Has fitness taught you any life lessons or given you any reminders?
If you are a minimalist runner, how was your transition process for you?